"Gone Looks Better" Singer Doubles Donations in Second Year of Annual Skeet Shoot Competition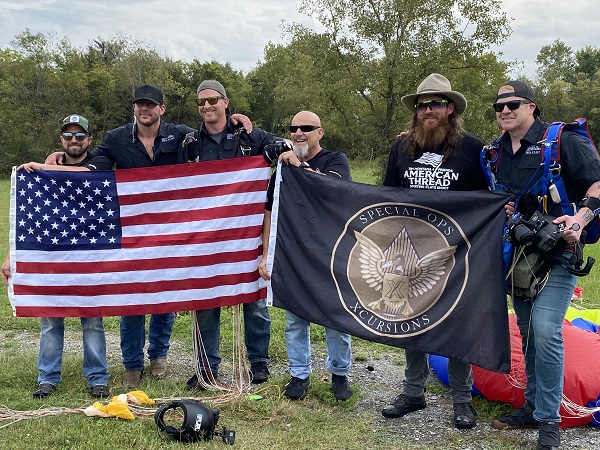 Country rocker and bearded businessman Tim Montana today shares that the second annual Tim Montana & Friends American Thread Sporting Clays Shoot held this week raised $264,867 for two charities that benefit our military (Special Ops Xcursions and the Children of Fallen Patriots Foundation). Doubling the amount raised in its first year (and then some), the event brought together a staggering number of supporters to brave the rain and compete on the sporting clays course.
Held at the Nashville Gun Club on Tuesday, the event featured a special performance of the National Anthem by Donnie Reis as SOCOM Para-Commandos sky divers carrying patriotic flags landed in the field, appearances by active duty Army Special Forces from Ft. Campbell (including an ODA Green Beret team and a MH-6 Little Bird helicopter), dinner courtesy of Traeger Grills, a live auction hosted by World Livestock Auctioneer Championship second place winner, Ted Odle and plenty of skeet shooting before closing the night with a concert from Tyler Farr, Colbie Caillat and Michael Ray. FOX News was onsite prior to the kickoff of the festivities to speak with Montana and Green Beret Corey Birchfield (watch here) before taking a few practice shots with retired Marine and double amputee, Joey Jones and chatting with Montana and Michael Ray about the spirit of the day (watch here).
"I'm incredibly grateful to all of our supporters that put so much into making this happen—I'm humbled by your generosity and amazed at what we accomplished in only our second year," said Tim Montana "I can't wait for next year, I have a feeling it's going to be even bigger and better!"
Proceeds from the event go directly to the two charity organizations. Special Ops Xcursions provides active-duty service members, their teams and families with outdoor adventures that help heal and bring joy to their lives. Children of Fallen Patriots Foundation provides college scholarships and educational counseling to military children who have lost a parent in the line of duty.
The name of the event ties into Tim's previous album, American Thread and in some ways his most recent album, Long Shots. The Montana native blends Country with rock electric guitar and influences from the West to create music that embraces hard and fast-living, the American experience and the blue-collar way. The music is unapologetic, relatable and raw and embraces the everyman and folks who ain't afraid to do the dirty work.
The "Gone Looks Better" singer is a true Renaissance man, moonlighting as a TV personality, marksman, father, husband, foodie, hell-raiser, businessman and budding actor. In addition to starring in his own show, "Tim Montana's Wild Side" on Velocity Outdoor Channel, Tim has many brand partnerships in addition to his own companies Whisker Bomb Original Foods (with ZZ Top's Billy Gibbons), Tim Montana's Vigilante Cigars (with Big Sky Cigars) and Ol' Boy Apparel.
Additional vendors and sponsors included: Adventure Retrievers, Ajax Turner, Ameripack, Apex Ammo, Armageddon Gear, Banded, Benelli, BGC Construction, Big Sky Cigars, Black Dagger Hunt Club, Black Rifle Coffee, Boswell Golf Carts, Breakthrough Clean, Brentwood Jewelry, Bobby Stringer Duck Calls, Browning Arms, Burks Beverage, Centurion Stone, CGS Suppressors, Colorburst Landscapes, Crossed Arrow Engraving, Country Outdoors, Country Rebel, Cypress Creek Outdoors, Daisy May Hats, Daniel Defense, DCR Nashville, Diamond Coach, Divebomb Decoys, EZ Dekes, Fender Guitars, Final Flight Outfitters, Fiocchi Ammunition, Future Shirts, Gerber Knives, Gettysburg Flag Co., Glock, Heroes Vodka, Hiviz Sights, Hunt Brother's Pizza, Indian Motorcycles, Judge Beans BBQ, Kryptek, Leatherwood Distillery, Leipers Fork Distillery, Leupold Optics, Lucid Optics,  Magpul, Major League Fowl, Makers Duck Calls, Mallard Estates, Maxim Defense, Mission BBQ, Northern Chill, Outer Limit Powersports, Patch Ops, Paw Paws Farmhouse Tables, Pelican Coolers, Piccole Bolle, Pit Viper, Polaris, Ranger Industries, Raven Concealment, Ravin Crossbows, Rockwell Watches, Rough Country, Royal Range, Shooting USA, Sierra Whiskey Company, Sig Sauer, Sitka, Snake River Farms, Snap On Tools, SoundGear, Southern Line, Star Spangled Brewery, Sugarland Shine, The Closet Company of Nashville, The Fowl Life, VK Systems, Volt, Vortex Optics and 5.11 Tactical.