VEVO World Premieres "Til Tomorrow" Music Video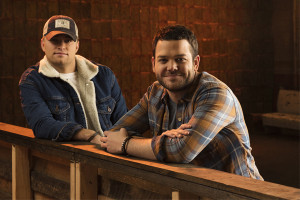 Photo Credit: Jason Myers
Nashville, TN (April 10, 2017) – Wheelhouse Records' burgeoning duo Walker McGuire (comprised of Jordan Walker and Johnny McGuire) propel onto Country radio today (4/10), with its highly buzzed about first single "Til Tomorrow." Declared by Rolling Stone Country to be "poised for a mainstream breakthrough in 2017," Walker McGuire's"Til Tomorrow" debuted with 41 first-week stations onboard, securing a Top 3 Most Added Single on the Mediabase U.S. Country Radio Chart this week.
Purchase and stream "Til Tomorrow" here: http://smarturl.it/tiltomorrow
Additionally today (4/10), VEVO unveiled the exclusive premiere of the Mason Dixon-directed music video for "Til Tomorrow." Keeping with the song's theme of picking up the pieces in the aftermath of a broken relationship, the video follows two different couple's night out on the town while also showcasing magnetic performance scenes from the budding duo. Watch the music video HERE and go behind-the-scenes of the video with Sounds Like Nashville HERE.
Produced by hitmaker Mickey Jack Cones (Dustin Lynch, Joe Nichols), "Til Tomorrow," has proven to be an early organic hit earning a remarkable18 MILLION+ Spotify streams. Walker McGuire is currently on the road visiting Country radio and performing headlining shows throughout the U.S. in support of the new single and forthcoming debut project, due out on Wheelhouse Records later this year.
Walker McGuire Tour Dates:

4/14 – Tally Ho Theater – Leesburg, VA
4/15 – Sidewinders Steakhouse & Saloon – Roanoke, VA
4/19 – Royal Oak Music Theatre – Royal Oak, MI
4/22 – Texas Club – Baton Rouge, LA
4/23 – Mississippi Coast Coliseum – Biloxi, MS
4/27 – Bullwinkle's Bar – Lawrence, KS
4/28 – The Single Barrel – Lincoln, NE
4/29 – Q Casino – Dubuque, IA
5/4 – The Forum Live – Macomb, IL
5/5 – Kelly's Bleachers Wind Lake – Norway, WI
5/20 – Santa Rosa Horse Palace – Vernon, TX
6/3 – Food Truck Championship of Texas – Graham, TX
6/10 – CMA Fest – Nashville, TN
About Walker McGuire:
Signed to BBR Music Group's Wheelhouse Records, Walker McGuire (comprised of Jordan Walker and Johnny McGuire), take an opposites-attract approach to their music, fusing electrifying "brotherly" harmonies with a fresh new take on modern country.
After meeting onstage at a writers round just days after moving to Nashville, Jordan – the "super country" guy, raised in Texas with a love for classics like Keith Whitley and Dan Seals – and Johnny – the quintessential "rootsy" guy, a Kansas City native schooled by left-of-center icons like Tom Petty and John Prine – discovered a yin-and-yang musical connection that fit together like puzzle pieces – and the duo Walker McGuire was born.
The budding duo's buzzworthy debut single "Til Tomorrow," which has been streamed over 18 MILLION times, impacted Country radio on April 10, 2017 as a Top 3 Most Added song. They are currently working on their debut project for Wheelhouse Records, due out later this year.
###
Walker McGuire Social Links:
https://www.facebook.com/WalkerMcGuire2012/
https://twitter.com/Walker_McGuire