LINDSAY ELL HAND PAINTS SONG-THEMED GUITARS FOR ONE-OF-A-KIND MEDIA PROJECT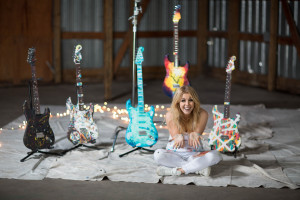 PHOTO CREDITS: Glenn Sweitzer
[endif]Nashville, TN (April 12, 2017) – On the heels of her debut EP Worth The Wait skyrocketing into the Top Ten on the Nielsen Soundscan Current Country Albums Chart last week, Lindsay Ell continues to dazzle audiences and showcase originality as she unveils a slew of themed videos tied to each song on her widely-lauded EP.
A multi-talented musician, Ell is truly an 'artist' in every sense of the word. Ahead of the highly-anticipated release of Worth The Wait, the rising star hand-painted several guitars to reflect the biographical theme and mood of each song on the EP and is now sharing the one-of-a-kind project with media and her loyal army of fans.
Watch the videos HERE.
Buy and stream Worth The Wait HERE.
Lindsay Ell is currently performing nationally in support of Worth The Wait on superstar and fellow guitar shredder Brad Paisley's LIFE AMPLIFIED WORLD TOUR. For a full list of tour dates, please visit: www.lindsayell.com/tour
ABOUT LINDSAY ELL:
Named one of The Huffington Post's "Top Country Artists to Watch," Lindsay Ell is a triple threat:  accomplished musician, unique vocalist and songwriter. The young Calgary native learned to play guitar while traveling with her father to country-bluegrass camps as a young girl. Ell honed her craft as a musical stylist and songwriter after being discovered by BTO and The Guess Who's Randy Bachman ("American Woman" / "Taking Care of Business") who discovered her at the age of 13.  The multi-instrumentalist was soon touring alongside the likes of Luke Bryan, Buddy Guy, The Band Perry and Keith Urban as well as wowing audiences as Carrie Underwood's guitar player live on the 50th Annual CMA Awards and holding her own alongside icon Melissa Etheridge on Skyville Live.
A 2016 CMT Music Award and Canadian Country Music Award nominee, Ell exhilarated audiences from coast-to-coast as part of the 2016 CMT Next Women of Country Tour and is featured on Brad Paisley's 2017 LIFE AMPLIFIED WORLD TOUR. Ell's highly anticipated debut EP, WORTH THE WAIT (produced by GRAMMY winner Kristian Bush of Sugarland), debuted at No. 8 on the Nielsen Soundscan Country Albums Chart. For more information visit: http://www.LindsayEll.com.
LINDSAY ELL SOCIAL MEDIA:
https://www.facebook.com/officiallindsayell/
https://twitter.com/lindsayell
https://www.instagram.com/lindsayell/
Snapchat: @LindsayEll