Parmalee FEELS LIKE CAROLINA Album Pre-Orders Available Now
EXCLUSIVE BONUS TRACK "TAKE Y'ALL HOME" AVAILABLE ONLY THRU ITUNES PRE-ORDER
Smash Single "Carolina" Breaks Top 5 at Country Radio  / Enters CMT and GAC Top 20 Countdowns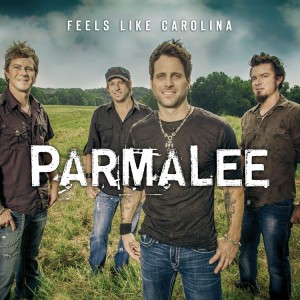 (NASHVILLE, TN) – Pre-orders are now available for fast-rising country act Parmalee's highly-anticipated debut album, FEELS LIKE CAROLINA.
Now through December 9, fans who pre-order FEELS LIKE CAROLINA via iTunes will be treated to an exclusive bonus track of Parmalee's "Take Y'All Home," a song that has become a crowd favorite at the band's live shows. "Take Y'All Home" is available ONLY at iTunes and ONLY as part of the store's pre-order opportunity.
When FEELS LIKE CAROLINA, an album inspired by the band's rollercoaster journey to Nashville and to the top of the charts, is released on December 10th, "Take Y'All Home" will no longer be available for purchase.
Additionally, fans that pre-order the album at iTunes, will be given an instant download of hit single, "Carolina" which jumped into the Top 5 this week on both the Billboard Country Airplay and Country Aircheck/ Mediabase charts.  The video for, "Carolina" also jumped into both the CMT Hot 20 and GAC Top 20 Country Countdown this week.
Fans can pre-order FEELS LIKE CAROLINA on iTunes here: http://smarturl.it/CarolinaPreOrder
The Stoney Creek Records foursome is also offering fans exclusive physical album bundles through its website.  The Limited Edition FEELS LIKE CAROLINA Bundle includes an autographed FEELS LIKE CAROLINA cd, an autographed 8×10 of the band and a Limited Edition FEELS LIKE CAROLINA t-shirt.
Fans can purchase the package, while supplies last, here: http://smarturl.it/CarolinaCDBundle
FEELS LIKE CAROLINA features 12 songs, including the smash hit "Carolina" and the raucous party anthem, "Musta Had a Good Time," which spent 4 straight weeks at #1 on SiriusXM The Highway's fan-voted "Hot 30 Live" Countdown.
Stand out tracks also include the lazy country swagger of live show favorite "Day Drinkin' " which captures the heart and soul of a blue collar holiday while the flirtatious grooves of "Dance" empowers the female fan to let her hair down and shake "what her mama gave her."
Produced by the four-man collective known as NV (Thompson Square), FEELS LIKE CAROLINA features songs written by the crème da le crème of Nashville's songwriting elite, including GRAMMY winning songwriter Craig Wiseman (Tim McGraw's "Live Like You Were Dying") as well as #1 chart-topping writers Kyle Jacobs (Garth Brooks' "More Than A Memory"), Bobby Pinson (Toby Keith/ Sugarland), Jason Sever and Rachel Thibodeau (Billy Currington's "Good Direction").
Parmalee lead singer Matt Thomas shares songwriting credits on seven of the album's 12 tracks, including collaborations with Phil O'Donnell and Blair Daily who have penned #1 hits for Rascal Flatts and Montgomery Gentry respectively.  Parmalee members Barry Knox, Josh McSwain and Scott Thomas also share writing credits on several tracks. Additionally, artists Randy Montana, Keith Anderson, Trent Tomlinson and Chris Janson lend their songwriting prowess to the diverse collection.
Official FEELS LIKE CAROLINA Track Listing:
1. Musta Had a Good Time
(Matt Thomas, Scott Thomas, Josh McSwain, Barry Knox, David Fanning)
2. Day Drinkin'
(Matt Thomas, Blair Daly)
3.  Move
(Arlis Albriton, Brandon Kinney, Ben Daniel)
4.  Close Your Eyes
(Adam Craig, Trent Tomlinson, Shane Minor)
5.  Dance
(Matt Thomas, Barry Knox, Tommy Cecil, Landis Frier)
6.  Carolina
(Matt Thomas, Scott Thomas, Josh McSwain, Barry Knox, Rick Beato)
7.  Think You Oughta Know That
(Matt Thomas, Jason Sever, Rachel Thibodeau)
8.  Back in the Day
(Chris Janson, Jaron Boyer, Ben Stennis, Preston Brust)
9.  My Montgomery
(Kyle Jacobs, Ben Glover, Randy Montana)
10. Already Callin' You Mine
(Matt Thomas, Scott Thomas, Barry Knox, Phil O'Donnell, Wade Kirby)
11.  I'll Bring the Music
(Keith Anderson, Craig Wiseman)
12.  Another Day Gone
(Matt Thomas, Scott Thomas, Josh McSwain, Barry Knox, Bobby Pinson)
ABOUT PARMALEE:
Stoney Creek Records' Parmalee is a family band comprised of brothers Matt and Scott Thomas (Lead Vocals/Guitar and Drums, respectively), cousin Barry Knox (Bass) and life-long best friend Josh McSwain (Guitar). Influenced by such musical heavyweights as the Allman Brothers, Travis Tritt and Bob Seger, the band's name is derived from the small town of Parmele, NC (population 262), which is home to a small tin-roofed barn dubbed Studio B where the band practiced on every given evening.
Parmalee's Top 40 debut country radio single, "Musta Had A Good Time" was voted #1 by fans for four consecutive weeks on SiriusXM The Highway's "Hot 30 LIVE" and its video reached #1 on CMT's PURE 12-Pack Countdown. Parmalee was handpicked by MTV Networks to perform at the 2013 O Music Awards, selected by Southwest Airlines to launch the brand's Southwest Airlines Travelin' Taylor Tour series, chosen as a Billboard "Bubbling Under" artist and featured as a Clear Channel NEW! Artist to Watch (June 2013). Parmalee's current Top 5 hit "Carolina" continues to rise up the country charts and has reached #1 on SiriusXM The Highway's "Hot 30 LIVE."
For more information about Parmalee, please visit: http://www.parmalee.com
# # #
ALBUM DIGITAL PRE-SALE BANNERS AVAILABLE AT: http://promo.www.bbrmusicgroup.com/parmalee/banners/
*Album cover photo by: Ed Rode
**Album cover design by:  Glenn Sweitzer