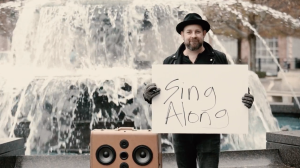 Nashville, TN (February 16, 2017) – GRAMMY-winning Wheelhouse Records artist Kristian Bush gives fans the first look of his lyric video for uplifting new single "Sing Along" exclusively on Billboard.com today, (2/16). The video stars Kristian as a modern day troubadour fondly reflecting upon a lost love as he strolls through the streets of Nashville, visiting iconic locations such as the Ryman Auditorium and the honky-tonks of Lower Broad.
Watch the "Sing Along" lyric video HERE. 
Serving up a dose of heartbreaking nostalgia over a sunny melody, the Country star ignites a passion in listeners with his positive message and feel-good wisdom layered throughout the track.
"It's a unique kind of love story in that something terrible has happened in this relationship," Kristian describes. "A break has occurred. But the story itself has this beautiful wish, which is 'No matter what happened, no matter what mistakes we made, I hope that when you listen to this song it makes you feel better.'"
Lauded as "infectious" (Rolling Stone Country) and declared an "Oscar-worthy performance" of a "riveting and vivid story" (Taste of Country), "Sing Along" continues to gain momentum at country radio and is available across all digital platforms now.
Purchase "Sing Along" here: http://geni.us/singalong
Stream "Sing Along" here:  http://bbrmg.us/streamsingalong
In addition to co-writing the hit musical Troubadour, which just wrapped a critically-acclaimed run at the Alliance Theatre in Atlanta, the triple-threat entertainer is slated to make his return across the pond to host the CMA Songwriters Series at the C2C Festival in London on March 9th.
For a full list of Kristian Bush tour dates, please visit: https://www.kristianbush.com/events
ABOUT KRISTIAN BUSH:
GRAMMY-winning recording artist Kristian Bush has been leaving his mark on music for more than two decades. The singer, songwriter, producer and multi-instrumentalist started his career with folk-rock duo Billy Pilgrim in the early '90s; in 2004, he exploded onto the country music scene with Sugarland, surpassing sales of over 22 million albums worldwide, achieving five No. 1 singles and winning numerous awards, including GRAMMYs, AMAs, ACMs, CMT Music Awards and CMAs. In 2014, Bush made his solo debut with Top 20 hit "Trailer Hitch," featured on his critically-acclaimed album SOUTHERN GRAVITY, which COUNTRY WEEKLY named the "feel-good album of the year" and ROLLING STONE named one of the Top 10 country albums of 2015. He recently wrote and performed "Forever Now," the theme song to TLC's hit reality series SAY YES TO THE DRESS, and his songs anchor the world premiere of TROUBADOUR, a musical set in 1950s Nashville, which debuted at Atlanta's Alliance Theatre Center in January 2017. Currently signed to Wheelhouse/BBR Music Group, his latest single, "Sing Along," is at radio now. For more information, visit www.kristianbush.com.
KRISTIAN BUSH SOCIAL LINKS:
Twitter: @KristianBush
www.facebook.com/KristianBushOfficial
www.instagram.com/kristianbush