KOLBY COOPER GIVES A RARE GLIMPSE INTO LIFE ON TOUR WITH LATEST "HELLO FROM THE ROAD" 
Headlining Shows throughout the Rest of 2023, 
View All Upcoming Dates HERE

Listen to "Hello From The Road" HERE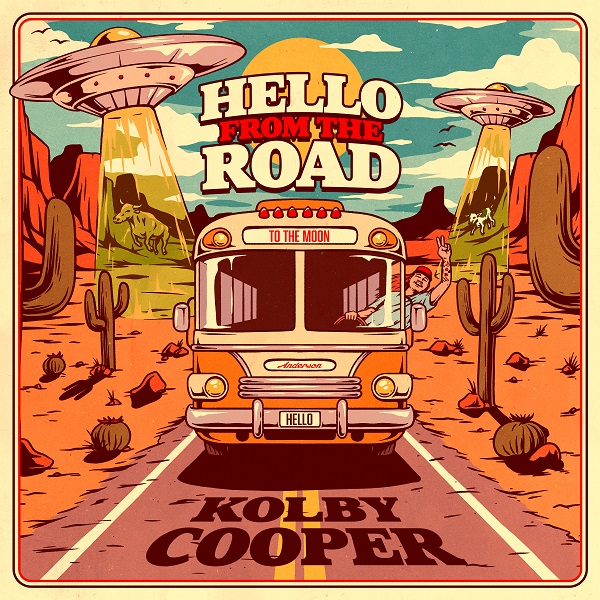 Praised by People as "Country music's newest badass," Kolby Cooper has been packing out venues and racking in streaming numbers typically reserved for household names since he was 18 years old. Now at only 24, the touring powerhouse and prolifically gifted songwriter with a frantically devoted fanbase dials in on the highs and lows of being on the road and the loneliness felt being away from loved ones with his latest "Hello From The Road," available today via BBR Music Group/Wheelhouse Records in partnership with Combustion Music. Listen now HERE.
Wishing he was at home while also enjoying the perks of tour life with his band and seeing the world, Cooper brings his vivid storytelling to life with a magnetically enticing beat.
"'Hello From The Road' is a song we wrote about being on the road for the past 4 years, and it was specifically inspired by a night in Birmingham after a show when our former merch guy got knocked out cold in a pool game gone wrong," explained Cooper. "I called my wife when we got back to the bus and told her it was crazy out here, and I can't wait to be home."
Written by Cooper with David Garcia and Brett Tyler and produced by Andrew Baylis, "Hello From The Road" continues his newly unveiled Country-rocker sound and follows his Grand Ole Opry debut, the fiery anthem "Kill Me" released earlier this summer, and his acclaimed label-debut album, Boy From Anderson County To The Moon, that Whiskey Riff and Raised Rowdy declared as one of the top albums of 2022.
Continuing his strenuous packed-out headlining tour-schedule throughout 2023, Kolby Cooper has "proven that he has everything it takes to hang with the big dawgs in country music" (Whiskey Riff).