Watch the Lyric Video for IG Track "Boy From Anderson County" HERE
Watch the Visualizer for Previously Released "Excuses" HERE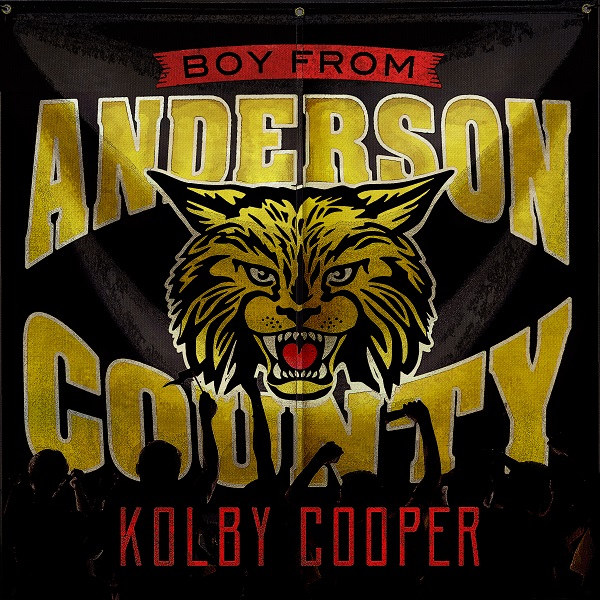 Prolific singer-songwriter Kolby Cooper announces today the release date of his six-track EP, Boy From Anderson County, to be Friday, August 6. The 22-year-old brings the heat with his highly anticipated debut project from BBR Music Group / Wheelhouse Records in partnership with Combustion Music. Stacked with high-energy rockers, scorching break-up anthems and reflective love songs, pre-save/pre-add the EP HERE and listen now to the title track "Boy From Anderson County."
The gifted songwriter has an uncanny ability to turn his and his friends' life stories into relatable songs his rabidly zealous fanbase can't get enough of, and his upcoming EP is no different. As Whiskey Riff betted early on, "it'll only be a matter of time before the world knows Cooper's name."
The title track kicks off the project with Cooper's heavy southern drawl giving a standout performance in this heartfelt love song, reminiscing on the impact his wife has had on his life and recognizing it was her who made him a man.
"Lots of swampy slide and grinding guitars complement the struggle in the Texan singer-songwriter's pain-soaked stories," Billboard perfectly exemplifies the unique sound Cooper is known for, and his previously released, tormentingly raw "it's not you, it's me" track, "Excuses," doesn't sway from what fans demand from the up-and-coming star.
Co-written by Cooper, Jameson Rodgers and Brent Anderson, Cooper's rough-hewn vocals are at the forefront in "Good For You," as he wishfully pines after the girl who didn't let him hold her back, while "Way To Go" is self-deprecation at its finest but leaves Cooper enlightened by the mistakes of his past, taking Michael Jackson's advice to change the "man in the mirror" if he ever hopes for a lasting relationship.
The up-beat, catchy track, "This Song Don't Make No Sense," finds Cooper dumbfounded by his former affirmation for his departed ex. Lastly, "Her Favorite Songs" is a vividly witty, tongue-in-cheek scorcher flaunting all of Cooper's success to a formidable antagonist.
Applauded for his honest, rebellious and non-apologetic attitude, the six songs, produced by Philip Mosley, embody everything that makes the Texan unique. Fans can anticipate songs ranging from intoxicatingly high-energy to sympathetically heartbroken.
"Ready to take the country world by storm" (Whiskey Riff), Cooper drops Boy From Anderson County on Friday, August 6.
Boy From Anderson County Track Listing
1. Boy From Anderson County (Kolby Cooper, Jordan Walker)
2. Good For You (Kolby Cooper, Jameson Rodgers, Brent Anderson)
3. Excuses (Kolby Cooper, Brett Tyler, Jordan Walker)
4. Way To Go (Kolby Cooper, Mike Walker, Josh Jenkins)
5. This Song Don't Make No Sense (Kolby Cooper, Jordan Walker, Matt McKinney)
6. Her Favorite Songs (Kolby Cooper, Jordan Walker, Jacob Davis)