"Seven Songs in Seven Days" Series
Instagram Live Performances & Conversations with Individual Co-Writers from Album Launching Monday, October 5th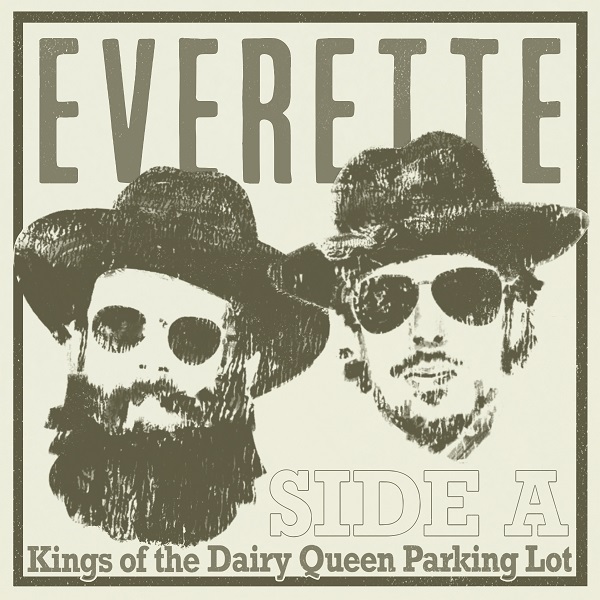 Multi-talented duo Everette – consisting of Brent Rupard and Anthony Olympia – TODAY release part one of their two-part album produced by legendary songwriter and producer Luke Laird, Kings of the Dairy Queen Parking Lot – Side A! Starting Monday, October 5th, Everette will go LIVE on Instagram at 7pm CT for their "Seven Songs in Seven Days" series. For this series, the duo will perform a different acoustic song each night from their new album followed by conversation with the respective individual co-writer.
"We don't care where you come from," Brent Rupard of Everette says. "Whether you're a city person or a country person or from Mars, you're always welcome at the Everette party."
Rooted in country, rock & roll, southern storytelling, and heartland hooks, Everette is glued together by two Kentucky natives who write their own songs, play their own instruments, and proudly blur the boundaries between themselves and their audience. For the boys, music is all about community. It's about connection. That's why the duo's motto — "We are Everette" — isn't just a statement about the musical bond shared by bandmates Brent Rupard and Anthony Olympia. It's a reference to the communal bonds they share with their fans, too.
Everette – named after George Clooney's philosophy-spouting, folk-singing character in O Brother, Where Art Thou – both co-wrote all 14 songs on Side A and Side B, teaming up with collaborators like Bryan Simpson, the Warren Brothers, Brent Cobb, Matt Jenkins, and Bobby Pinson along the way. Before recording those songs with Grammy-winning songwriter and producer Luke Laird, they whittled them into shape during a monthly residency at the Springwater Supper Club & Lounge, a no-frills dive bar sporting one of Nashville's smallest stages where they packed the room each show with both music industry and fans alike.
Split into two parts, Kings of the Dairy Queen Parking Lot is described by the duo as "…that first taste of freedom that I feel like no matter where you're from, we all had that around 16 or 17 years old where you're hanging out in your parking lot, maybe doing something a little bit menacing and just hanging out and having a good time." The first half of the album, Side A, makes an impact of its own. There are wild 'n' rowdy drinking songs like "Dang the Whiskey" that may or may not be a true story about one of the guys having too much fun on a Friday night, falling-in-love salutes like "Way Back" about meeting that person that feels it's been a lifetime of friendship and love upon just meeting them, country-rock breakup anthems like "Break it to Me" about the guessing game of an inevitable breakup of when and how it'll happen. The album also contains a tribute to their families with songs like "Love Me Like I Am" which is a tribute to their wives who've supported Brent and Anthony's dreams for years and "Momma, I'll Be Okay" which is a touching thank you to their parents for raising them well regardless of their wild cross-country escapades that come with the territory of being in the music industry. From the funky, party-ready guitar riffs that kick off the EP's opening track, "Can't Say No" along with their aforementioned heartfelt tracks, Side A is modern country music at its finest: one part twang, one part rock & roll attitude, and a generous dose of anthemic hooks. The lyrics may be biographical, but these songs are for everyone. They're not just Everette's stories, after all. They're ours.
Tune in TODAY to Sounds Like Nashville's Instagram where they will be taking over and showing fans their process of writing and creating the album, random glimpses of a day in their lives, and they'll also be talking about their upcoming series "Seven Songs in Seven Days." Starting this coming Monday, October 5th, the duo will launch this series where they will acoustically perform a different song from the album each night at 7pm CT on Instagram Live. Following the performance, they will chat with the respective co-writers talking about writing the song, the process, etc. This series will go from Monday, October 5th through Friday, October 9th picking back up on Monday, October 12th with the series finale on Tuesday, October 13th. Then the following day, October 14th, Everette will launch their "Love Your Neighbor" series – a series of backyard shows where they (safely) perform for friends, family, fans, and neighbors. They will release a new video each Wednesday, each benefiting different charities that will be announced each week.
Whether someone is old, young, from New York City, or a small dot on a map – this is just a glimpse as to how Everette fits in with everybody and everybody fits in with Everette.