Dee Jay Silver and DJ Ikon Team Up, Release First Taste of Music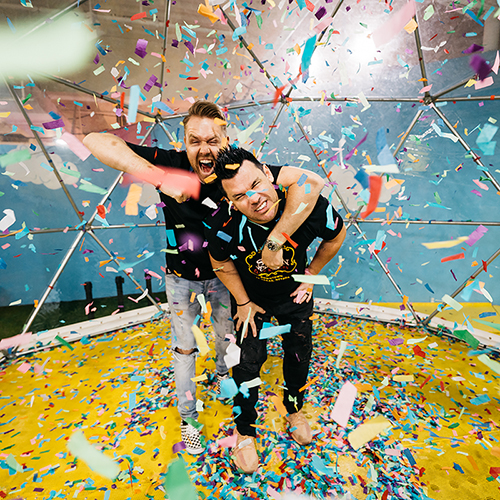 RoadHouse, comprised of Dee Jay Silver and DJ Ikon, today becomes the first DJ duo signed to a Nashville record label as they join the BBR Music Group family. In addition to remixing other artists songs, the twosome will also release original music that mixes elements of Country, Pop, EDM, Hip Hop and all other genres. In celebration of their signing, RoadHouse has released its first taste of its music with a remix of LOCASH's hit, "One Big Country Song." Listen HERE.
Pulling inspiration from all genres, RoadHouse is where Nashville meets Vegas and Party Rock meets Southern Rock and everything in between—with plenty of guitar drops and good times. Country Music's most recognizable DJ and the first DJ to be signed to a Nashville label, Dee Jay Silver, and Las Vegas legendary resident DJ Ikon, produce all RoadHouse music. Teaming up with some of the most talented songwriters in Nashville for their original material, the pair will bring in featured artists to sing vocals on their tracks.
"Silver has unofficially been in our family for years. He and Aldean revolutionized the Country concert experience through his performances between sets at nearly every amphitheater and arena in the US, not to mention his electrifying club performances. Ikon is a force of nature in his own right with a proven track record," said Jon Loba, EVP BBR Music Group. "When the guys laid out their vision for RoadHouse, we immediately recognized the opportunity for them to be revolutionaries in Country music again, while bringing new listeners into the genre through their remixes and original work. Our world needs an escape and party more than ever and RoadHouse brings that in spades!"
RoadHouse, with a big sound, will bring the fun with high-energy performances paired with live instruments and special guests. Armed with the ability to start a party everywhere they go, RoadHouse will perform everywhere from festivals, nightclubs, pool parties, Country concerts and everywhere in between from coast to coast.
"Our goal from day one as RoadHouse was to do something different—something that has never been done before! We knew for this project to work, we would need the right partner, one that wasn't afraid to take chances and believes in us! It took one meeting with Jon Loba and we knew we were home," said RoadHouse. "BBR has always looked outside the box and has never been afraid to take chances. We are excited to work with the whole team and create something truly amazing together!  We are proud to be the newest members of the BBR family!"
RoadHouse is managed by Red Light Management. For more information, please visit RoadHouse's Instagram or Website.