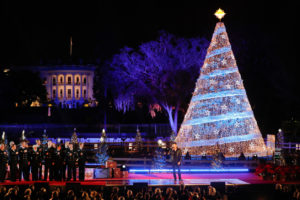 Photo Credit: Paul Morigi for the National Park Foundation
SHOW: 95th Annual National Christmas Tree Lighting
DATE: December 4
TIME: 7 p.m. ET / 6 p.m. CT
NETWORK: Hallmark Channel
DETAILS: Critically acclaimed BBR Music Group artist CRAIG CAMPBELL helps the country ring in the holidays with a stunning rendition of "I'll Be Home for Christmas" at the 95th annual National Christmas Tree Lighting on Hallmark Channel tonight (12/4).
Presented by National Park Service and the National Park Foundation, the beloved American tradition dates back to President Calvin Coolidge in 1923. This year, Campbell joins hosts Kathie Lee Gifford and Dean Cain, along with performers including The Beach Boys, Wynonna, Mannheim Steamroller and the U.S. Navy Band in the celebration at President's Park (home to the White House). You can follow @TheNationalTree and use #NCTL2017 to join in on the fun on social media.
Craig Campbell's "I'll Be Home for Christmas" is available
here
Last month, Campbell received exceptional acclaim for his performance of "Lady" during the Kenny Rogers' tribute at the 2017 SESAC Nashville Music Awards. "But it was Campbell…who captivated the room, crooning 'Lady' at the piano," raved Rolling Stone Country. "Campbell…owned the Lionel Richie-penned song earning one of the night's few standing ovations."
After touring this summer with superstar Luke Bryan, Campbell is currently headlining select dates nationwide. The Georgia native is also hard at work on his debut album for BBR Music Group and a new single is expected to release in 2018.
ABOUT CRAIG CAMPBELL:
Campbell launched on to the Country music scene with the release of his self-titled debut album (2011), delivering the hits "Family Man," "Fish," and "When I Get It." To date, he has logged five consecutive charted hits, including his latest widely praised single "Outskirts of Heaven," with over a billion radio airplay audience impressions and over a half million downloads. Acclaimed as one of the genre's elite neo-traditionalist singers, his Top 15 breakout debut "Family Man" was featured on HBO's True Blood and fan-favorite "Fish" has tallied nearly 400,000 digital copies sold. Campbell earned his first Top 10 smash with "Keep Them Kisses Comin'" from his sophomore album NEVER REGRET (2013). The gifted songwriter co-wrote Garth Brooks "All American Kid" off of MAN AGAINST THE MACHINE. Prior to landing his first record deal, the Lyons, GA, native spent time on the road playing keyboard for both Tracy Byrd and Luke Bryan – shows that inspired him nightly. He was soon discovered while playing a regular gig at the downtown Nashville honky-tonk, The Stage.