Stella Rosa® Future Is Female Presents: Lainey Wilson's Country With a Flare Tour to Kick Off on January 4th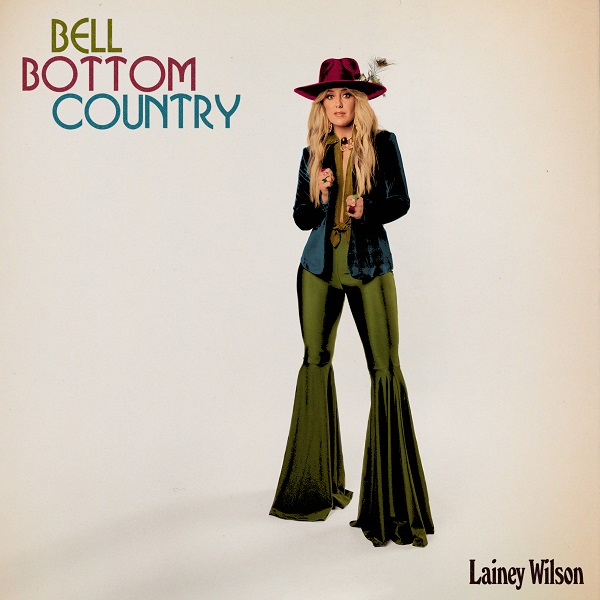 Today, Billboard's Top New Country Artist of 2021, ACM 2022 New Female Artist of the Year, CMT's 2022 "Breakout Artist of the Year," and six-time CMA Awards nominee Lainey Wilson released her highly anticipated album Bell Bottom Country and announced a 27-city headlining tour, presented by Stella Rosa® Future Is Female music series.
Bell Bottom Country draws its name directly from the moniker people use to describe the Louisiana native's unique sound, style, and aesthetic — it's Country, but with flare. The highly anticipated album reflects Lainey's depth and multifaceted character with elements of '70s Rock, Funk, and Soul, but remains Country to the core. The album features 14 tracks (all of which she co-wrote, except one cover), including her latest release, "Live Off," as well as "Watermelon Moonshine," and current single "Heart Like a Truck," which is approaching Top 20 on the Country radio charts and climbing. Throughout the album, Lainey reveals her dynamism and makeup as a woman who is vulnerable, empowering, and above all else, real. While just as authentic as her critically acclaimed breakout album Sayin' What I'm Thinkin', Bell Bottom Country displays Lainey's immeasurable growth as person, artist, and songwriter.
"This past year has been such a roller coaster – it's truly been one of the most rewarding and challenging of my career. We've worked so hard on this album, and I'm so proud of it," Lainey said. "I can't wait to headline my first tour next year and play all my new music across the country."
On January 4, 2023, Lainey will embark on the Country with a Flare Tour, presented by Stella Rosa® Future Is Female. The 27-city trek will kick off in Spokane, WA, with later stops at Irving Plaza in New York City and Brooklyn Bowl in Nashville, before concluding in Columbus, OH on March 31st. Joining her on tour will be buzzed about newcomer Ben Chapman as well as Meg McRee and Leah Blevins on select dates. This will be Lainey's first headline tour.
Stella Rosa® Future Is Female is a music series consisting of national tours and special one-off events that showcase and Stellabrate the brightest new female voices across various music genres. Debuting in 2023 with Lainey Wilson, Stella Rosa Future Is Female® was created by veteran live event producers, Idol Roc Entertainment (Outbreak Tour, Up & Up College Festival Series, $50k Charity Challenge) in an effort to help support and advance the growing number of female headliners and music industry professionals. In partnership with We Are Moving the Needle, a nonprofit organization supporting all women recording industry professionals, Stella Rosa Future Is Female will donate $1 from each ticket sale.
Tickets go on sale to the general public beginning Friday, November 4th at 10AM Local Time at www.LaineyWilson.com. CITI is the official card of Lainey Wilson's tour. Citi cardmembers will have access to presale tickets beginning Tuesday, November 1st at 10AM Local Time through the Citi Entertainment program. For complete presale details visit www.citientertainment.com. Lainey's Fan Club Pre-Sale will begin on Wednesday, November 2nd at 10AM Local Time and Local Pre-Sale on Thursday, November 3rd at 10AM Local Time.
See below for the full itinerary. All dates, cities, and venues below are subject to change. For tickets or more information, please visit www.LaineyWilson.com.
As part of album release, fans can watch Lainey on The Tamron Hall Show on Tuesday, November 2nd, and in ABC's Primetime CMA special airing timed to the CMA Awards, where she's nominated for a staggering six awards (the most of any nominee). Nashville locals can catch Lainey's iconic bell bottoms on the legendary "Musica" Statue at the Music Row Roundabout, which will be dressed in bell bottom flare throughout release week.
Lainey will be making her acting debut joining season 5 of Academy Award-nominee Taylor Sheridan's smash hit series Yellowstone, which is set to premiere on the Paramount Network on Sunday, November 13th. Throughout the upcoming season, she will perform original music from Bell Bottom Country. Next year, Lainey will join Luke Combs once again as a supporting act on all North American dates of his 2023 World Tour alongside Riley Green, Flatland Cavalry, and Brent Cobb.
"Bell Bottom Country" Track Listing:
"Hillbilly Hippie" (Lainey Wilson, Terri Jo Box, Jeremy Bussey)
"Road Runner" (Lainey Wilson, Trannie Anderson, Dallas Wilson)
"Watermelon Moonshine" (Lainey Wilson, Jordan Schmidt, Josh Kear)
"Grease" (Lainey Wilson, Jessi Alexander, Andrew Petroff)
"Weak-End" (Lainey Wilson, Nicolette Hayford, Faren Rachels)
"Me, You, and Jesus" (Lainey Wilson, Emily Weisband, Dallas Wilson)
"Hold My Halo" (Lainey Wilson, Derek George, Monty Criswell, Lynn Hutton)
"Heart Like A Truck" (Lainey Wilson, Dallas Wilson, Trannie Anderson)
"Atta Girl" (Lainey Wilson, Dallas Wilson, Brett Tyler)
This One's Gonna Cost Me" (Lainey Wilson, Nicolette Hayford, Faren Rachels)
"Those Boots (Deddy's Song)" (Lainey Wilson, Terri Jo Box, Trent Tomlinson)
"Live Off" (Lainey Wilson, Trannie Anderson, Dallas Wilson, Adam Doleac)
"Wildflowers and Wild Horses" (Lainey Wilson, Trannie Anderson, Paul Sikes)
"What's Up (What's Going On)" (Linda Perry)
2023 Stella Rosa® Future Is Female Presents: "Country With a Flare Tour" Dates:
January 4, 2023 – Spokane, WA – Knitting Factory*
January 5, 2023 – Seattle, WA – The Showbox*
January 6, 2023 – Portland, OR – Wonder Ballroom*
January 7, 2023 – Bend, OR – Midtown Ballroom*
January 8, 2023 – Chico, CA – Senator Theatre*
January 12, 2023 – San Jose, CA – Club Rodeo*
January 13, 2023 – Reno, NV – Cargo Concert Hall*
January 14, 2023 – Visalia, CA – Visalia Fox Theatre*
January 19, 2023 – Bozeman, MT – The ELM*
January 21, 2023 – Laramie, WY – Cowboy Saloon*
January 22, 2023 – Mills, WY – The Beacon Club*
February 2, 2023 – Silver Spring, MD – The Fillmore Silver Spring*
February 3, 2023 – New York, NY – Irving Plaza*
February 4, 2023 – Jordan, NY – Kegs Canal Side*
February 5, 2023 – Portland, ME – Aura*
February 9, 2023 – Chattanooga, TN – The Signal*
February 10, 2023 – Starkville, MS – Rick's Café*
February 17, 2023 – Charlotte, NC – Coyote Joe's*
February 18, 2023 – Greenville, SC – Blind Horse Saloon*
February 24, 2023 – Columbia, MO – The Blue Note*
February 25, 2023 – Springfield, MO – Midnight Rodeo*
March 2, 2023 – Grand Rapids, MI – The Intersection+
March 3, 2023 – Rootstown, OH – Dusty Armadillo+
March 16, 2023 – Nashville, TN – Brooklyn Bowl
March 23, 2023 – Tulsa, OK – Cain's Ballroom+
March 30, 2023 – Milwaukee, WI – The Rave+
March 31, 2023 – Columbus, OH – The Bluestone+
Direct support: Ben Chapman
1st of 3 acts: Meg McRee & Leah Blevins
*Meg McRee
+Leah Blevins