BAND WILL PERFORM ON THE TODAY SHOW ON OCTOBER 7 & ON THE LATE LATE SHOW WITH JAMES CORDEN ON OCTOBER 8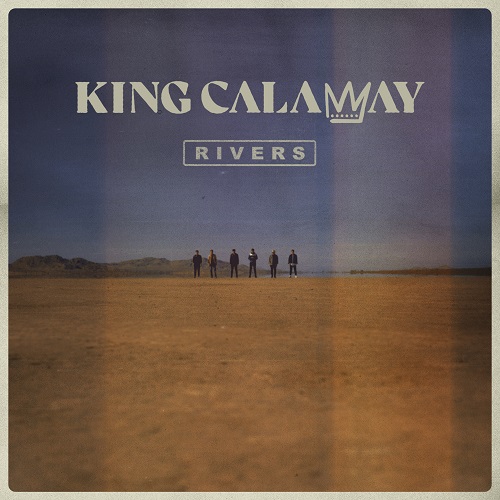 After a whirlwind year, rising Nashville band KING CALAWAY has released today their debut full-length album Rivers via BBR Music Group's Stoney Creek Records – available everywhere NOW. The 12-track album was co-produced by Robert Deaton and Ross Copperman. Copperman also penned several of the tracks amongst other songwriters including Mitchell Tenpenny, Devin Dawson, Teddy Geiger, and many more.
The band expressed their excitement stating, "Rivers is a milestone in all of our lives and a new chapter in our journey as a band. We could not be more proud of what we have created."
King Calaway will celebrate the release with two television performances. The band of six will perform their hit single "World For Two" on The Today Show on October 7 and foot-stomping title track "Rivers" on The Late Late Show With James Corden the following day, on October 8. These performances will mark the band's debut on both shows.
Hailing from around the globe, the band first came on the scene with their eponymous EP, of which all tracks are included on their new album in addition to 7 new tracks. In the short time since their debut, King Calaway has already taken the world by storm – from performing with Ricky Skaggs at the Grand Ole Opry, appearing on Jimmy Kimmel Live!, making their CMA Fest debut, opening for Garth Brooks at one of his stadium dates, to headlining a festival in Gibraltar, King Calaway has already accomplished major milestones most Country artists can only dream of. The band was lauded by Rolling Stone for bringing an "exuberance to the stage…each taking solo parts between lushly harmonized chorus parts."
TRACK LISTING:
No Matter What – (Andy Albert, Paul DiGiovanni, Jordan Schmidt, Mitchell Tenpenny, Devin Dawson)
More Than I Do – (Nate Cyphert, Ben West, Laura Veltz)
Rivers –  (RuthAnne Cunningham, Teddy Geiger, Bruce Fielder, Tom Parker, ØJM)
Obvious – (Steven Lee Olsen, Nolan Sipe, Brandon Day)
Missing You – (Dave Barnes, Jordan Reynolds)
Driver's Seat – (Josh Hoge, David Ryan Harris,  David Hodges)
Grow Old – (RuthAnne Cunningham, Tom Parker, ØJM)
I Do – (Ross Copperman, Jon Nite, Brad Warren, Brett Warren)
Picture of the Way You Are – (Barry Dean, William Rinehart, Jimmy Robbins)
World For Two – (Ross Copperman, Josh Osborne, James Abrahart)
Love the One You're With – (Stephen Stills)
I Did – (Logan Turner)