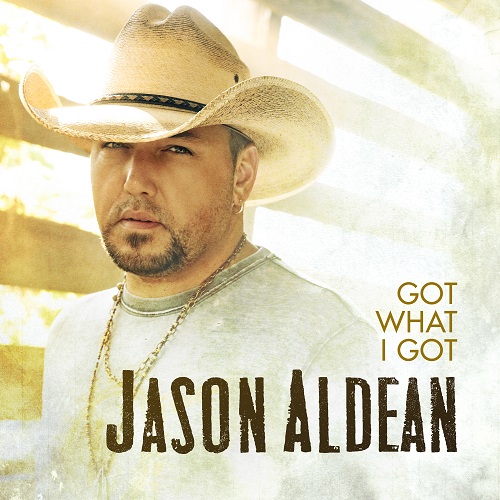 JASON ALDEAN TAKES "TENDER LOVE SONG" (BILLBOARD)
"GOT WHAT I GOT" TO RADIO AIRWAVES TODAY AS NEW SINGLE
 Multi-Platinum entertainer Jason Aldean continues to embrace the genre-blending sound that has helped define his career with the release of his new single "Got What I Got." The R&B infused track from his sixth consecutive No. One selling album 9 (Macon Music/Broken Bow Records) was produced by long-time collaborator Michael Knox and is an expression of gratitude for the ones we love. "Got What I Got" is available at all digital retailers now and ships to Country Radio today with an April 7 impact date.
"When I first heard 'Got What I Got' it reminded me of something Boyz II Men would do…almost like a 90's R&B throwback song," Aldean shared. "It's just not something you really hear in Country music that much…plus, now more than ever, I think we're all just being reminded how to appreciate the people we love."
"Got What I Got" showcases Aldean's versatility, serving as a "perfect example that he has no problem diverting from his signature anthems" (Entertainment Tonight). Co-written by Thomas Archer, Alex Palmer and Michael Tyler, the new single carries Aldean's pattern of touching on "the 'life stuff' at the center of his ninth studio set" (Billboard).
After almost 15 years at the top of his format, three-time ACM "Entertainer of the Year" Jason Aldean has seen trends come and go. He's helped bring a few out of the shadows, like a Country-music Columbus making the mainstream's first contact with hard rock ("Hicktown"), hip-hop ("Dirt Road Anthem") and R&B ("Burnin' It Down"). But after all that time, he continues to hold his ground making modern albums with an old-school soul—most recently with his ninth studio album, 9, which debuted at the top spot on Billboard's Country Albums chart. Notably, all eight of Aldean's previous studio albums have been certified GOLD or PLATINUM by the RIAA, while bolstering 15 billion streams and more than 18 million albums sold as well as 23 radio chart-toppers. After recently wrapping the winter leg of his 2020 WE BACK TOUR, Aldean will launch into its second leg on July 17th in Toronto, ON with special guests Brett Young, Mitchell Tenpenny and Dee Jay Silver. For more information, visit www.JasonAldean.com.