Country music's hit-maker, Ross Copperman re-imagines today's
biggest chart-toppers for the family
Pre-order for album and tracks "Dirt on My Boots" and "Wagon Wheel" now available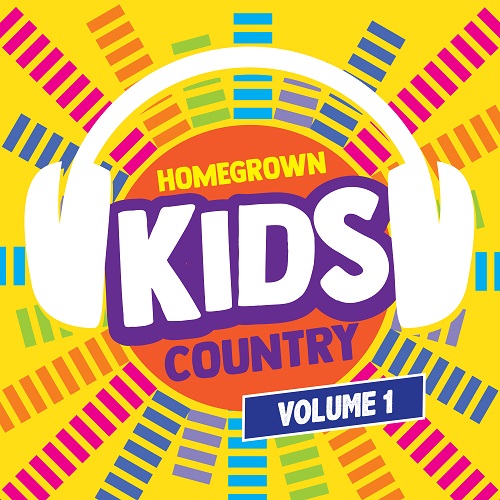 Conceived and crafted by award-winning hit songwriter and producer Ross Copperman, BBR Music Group/BMG today announces Homegrown Kids Country, Vol 1. The compilation album featuring children performing 10 of today's biggest Country hits, will be released December 7 and is available today (11/9) for pre-order. Fans can get a preview of the project with two tracks, "Dirt on My Boots" and "Wagon Wheel" everywhere digitally today.
Homegrown Kids Country, Vol 1 presents Country in a fresh way – with kids singing a fun mix of current chart-toppers and longtime favorites, all in family-friendly style that provides an enjoyable listening experience for all ages. Inspired by his own kids love of music, Copperman paired a diverse troop of some of the best youth vocal talent with Nashville's world-class musicians and studios to highlight each song's essence in unexpected ways. Armed with the goal of creating a product that parents can be proud to leave on repeat, Copperman hand-selected songs that not only are some of the most popular songs in Country music, but most songs are embedded with a positive message– perfect for bringing families together and inspiring children to make their world a better place.
"I've worked on so many records but really just wanted to make one for them that we can listen to while we drive around in the car and other parents can enjoy too," said Copperman, executive producer of the Homegrown Kids. "When kids hear other children singing, their eyes kind of light up and I just thought this would be a great way to get kids and their families involved in Country music."
At the helm of the Homegrown Kids is one of the most prolific and influential songwriters working in Country today. Copperman is a skilled tunesmith with nearly twenty Country No. 1 hits to his credit and has produced chart-topping hits for Dierks Bentley, Brett Eldredge, Jake Owen, Keith Urban and many more. He is the reigning BMI Songwriter of the Year (2016 and 2017) and the winner of five CMA Triple Play Awards (CMA honor for songwriters who have penned three No. 1 songs in a 12-month period).
The 10 songs featured on the album have achieved almost as much as its captain—altogether the tracks have accumulated more than 9 million sales, 1 billion digital streams and nine No. 1 hits on Country radio. Check out the music video for "Dirt on My Boots" here along with the lyric video to "Wagon Wheel."
Homegrown Kids Country, Vol 1, produced by Dana Anderson and David Wise with executive producer Copperman, is available for pre-order here. For more information, visit the Homegrown Kids website.
TRACK LISTING:
"Dirt on My Boots" — (Jon Pardi: Rhett Akins, Jesse Frasure, Ashley Gorley)
"Meant to Be" — (Bebe Rexha ft. Florida Georgia Line: Bleta Rexha, Tyler Hubbard, Josh Miller, David Garcia)
"Road Less Traveled" — (Lauren Alaina: Lauren Alaina, Jesse Frasure, Meghan Trainor)
"Get Along" — (Kenny Chesney: Shane McAnally, Ross Copperman, Josh Osborne)
"Wagon Wheel" — (Darius Rucker: Bob Dylan, Ketch Secor)
"Coming Home" — (Keith Urban ft. Julia Michaels: Keith Urban,  Jonathan Rotem, Julia Michaels, Nicolle Galyon, Merle Haggard)
"Most People are Good" — (Luke Bryan: David Frasier, Ed Hill, Josh Kear)
"Everything's Gonna Be Alright" — (Kenny Chesney ft. David Lee Murphy: David Lee Murphy, Jimmy Yeary, Chris Stevens)
"No Such Thing as a Broken Heart" — (Old Dominion: Matthew Ramsey, Trevor Rosen, Brad Tursi, Jesse Frasure)
"Boondocks" — (Little Big Town: Karen Fairchild, Wayne Kirkpatrick, Kimberly Roads, Phillip Sweet, Jimi Westbrook)