Country music's hit-maker, Ross Copperman, re-imagines today's biggest chart-toppers for the family, just in time for the holidays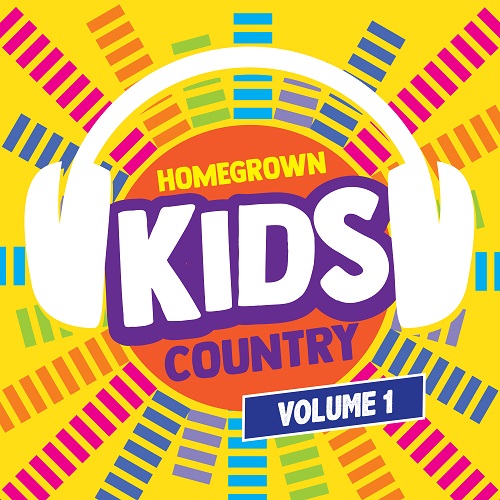 Homegrown Kids Country, Vol 1 is available everywhere digitally today via BBR Music Group/BMG. The compilation album featuring children performing 10 of today's biggest Country hits was conceived and crafted by award-winning hit songwriter and producer Ross Copperman. Pairing a diverse troop of some of the best youth vocal talent with Nashville's world-class musicians and studios, Homegrown Kids Country, Vol 1 presents Country in a fresh way.
Featuring kids singing a fun mix of current chart-toppers and longtime favorites, Homegrown Kids Country, Vol provides an enjoyable listening experience for all ages, especially as most songs are embedded with messages of positivity– the album is perfect for bringing families together and inspiring children to make their world a better place. Inspired by his own kids love of music and their need for relatable tunes, Copperman hand-selected wildly popular upbeat Country songs as a way to expand Country music into children's lives, encourage musical education and provide family-friendly tunes that both kids and their parents feel good about listening to.
"The response I've been getting from this project already has been incredible—I think parents especially are excited to be able to really share their love of Country music with their children," said Copperman, executive producer of the Homegrown Kids. "I've gotten a few emails from people saying that they teared up listening to our version of 'Most People are Good' or sharing excitement because they've been feeling like their kids had been needing to hear positive songs with substance."
Billboard Country Update has taken notice of the shift toward family-friendly Country and the potential impact Copperman's project has started to make on the format noting, "With its historic attachment to songs about cheating, drinking and divorce, Country music has generally been regarded as a genre for adults. But new efforts at using the format to reach younger generations are transforming country into kids' stuff. Producer Ross Copperman (Dierks Bentley, Brett Eldredge) has assembled Homegrown Kids Country, Vol 1… that has children ages 7-18 reimagining modern country songs."
Copperman, recognizing that kids' eyes light up when they hear their peers singing, knew this would be a great avenue to introduce children to the Country genre early, in a way that they could digest and enjoy. The inclusive group that makes up the Homegrown Kids represent a wide range of ages, origins and ethnicities, making the music even more relatable to children today. You can get a sneak peek of the Homegrown Kids cast in the music videos for "Get Along" and "Dirt on My Boots."
As Taste of Country (who included the album in its "Ultimate 2018 Holiday Gift List for Country Fans") puts it, "Throughout the years, songwriter and producer Ross Copperman has worked with everyone from Dierks Bentley to Keith Urban to Blake Shelton. But this album has him working with a group of talented kids singing country music's biggest hits, and what could be better than that?"
Copperman is one of the most prolific and influential songwriters working in Country today with nearly 20 Country No. 1 hits to his credit. He has produced chart-topping hits many of Country's biggest stars. He has won two BMI Songwriter of the Year Awards (2016 and 2017) and five CMA Triple Play Awards (CMA honor for songwriters who have penned three No. 1 songs in a 12-month period). The songs featured on the album have achieved almost as much as its captain—altogether the tracks have accumulated more than 9 million sales, 1 billion digital streams and nine No. 1 hits on Country radio.
Check out the Homegrown Kids YouTube page for music videos, lyric videos and other family-friendly content. Homegrown Kids Country, Vol 1, produced by Dana Anderson and David Wise with executive producer Copperman, is available here. For more information, visit the Homegrown Kids website.
TRACK LISTING:
"Dirt on My Boots" — (Jon Pardi: Rhett Akins, Jesse Frasure, Ashley Gorley)
"Meant to Be" — (Bebe Rexha ft. Florida Georgia Line: Bleta Rexha, Tyler Hubbard, Josh Miller, David Garcia)
"Road Less Traveled" — (Lauren Alaina: Lauren Alaina, Jesse Frasure, Meghan Trainor)
"Get Along" — (Kenny Chesney: Shane McAnally, Ross Copperman, Josh Osborne)
"Wagon Wheel" — (Darius Rucker: Bob Dylan, Ketch Secor)
"Coming Home" — (Keith Urban ft. Julia Michaels: Keith Urban, Jonathan Rotem, Julia Michaels, Nicolle Galyon, Merle Haggard)
"Most People are Good" — (Luke Bryan: David Frasier, Ed Hill, Josh Kear)
"Everything's Gonna Be Alright" — (Kenny Chesney ft. David Lee Murphy: David Lee Murphy, Jimmy Yeary, Chris Stevens)
"No Such Thing as a Broken Heart" — (Old Dominion: Matthew Ramsey, Trevor Rosen, Brad Tursi, Jesse Frasure)
"Boondocks" — (Little Big Town: Karen Fairchild, Wayne Kirkpatrick, Kimberly Roads, Phillip Sweet, Jimi Westbrook)