ANNOUNCES UNPRECEDENTED "CALLING ALL FANS" AND STREET WEEK POP-UP SHOPS ACROSS U.S.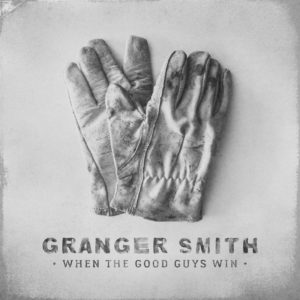 Nashville, TN (October 27, 2017) – Country music chart-topper Granger Smith's anticipated new albumWhen The Good Guys Win is officially out everywhere TODAY. This is Granger's sophomore national release via BBR Music Group's Wheelhouse Records and features the hooky lead single, "Happens Like That," currently No. 27 at Mediabase and No. 29 at Billboard.  Produced by Frank Rogers, Derek Wells and Granger Smith, When The Good Guys Win, was a particularly unique project in that it was almost entirely written and edited on the road. "With the album evolving this way on the road, country fairs, parking lots, green rooms and hotel lobbies, it truly reflects the source of the inspiration: the fans," explains Granger. "Without knowing it, my fans were involved in every step of this project and I believe they will hear that through the music. Looking back, I don't think there could have been a better way to do it." To download and stream, click https://grangersmith.lnk.to/goodguys. When The Good Guys Winfollows last year's acclaimed, Remington, which included the RIAA GOLD No. 1 "Backroad Song" and No. 5 "If The Boot Fits."
In an unprecedented undertaking, the singer announced last night via social media that he will personally call every fan that purchases the album from pre-order (Oct. 6) through release week (Nov. 3 deadline). Go to callfromgranger.com to enter. Watch his announcement via Instagram.
Over the course of his groundbreaking career, Granger has always been deeply rooted and devoted to his fan base. So it comes as no surprise that for this album, he has not only committed to making thousands of phone calls, but has also decided to spend street week on the ground meeting fans. Starting tomorrow, fans will have the opportunity to meet Granger at pop-up shops in multiple markets across the U.S. (full schedule listed below).  "Above all else, it's the fans' support that allows me the opportunity to live this dream," says Granger. "The fans were a great source of inspiration during the making of this album, so it's only fitting that I spend release week thanking as many of them as I possibly can."
Saturday, October 28
Tustin, CA
10:00am
Tustin Buick
1 Auto Center Dr.
Tustin, CA 92782
Bakersfield, CA
6:00pm
KUZZ
3223 Sillect Ave.
Bakersfield, CA 93308
Monday, October 30
Indianapolis, IN
1:30pm
WFMS
6810 N. Shadeland Ave.
Indianapolis, IN 46220
Cincinnati, OH/Alexandria, KY
6:00pm
Kerry Chevrolet
7500 Alexandria Pike
Alexandria, KY 41001
Tuesday, October 31
Columbus, OH
8:00am
Rod's Western Palace
3099 Silver Dr.
Columbus, OH 43224
Akron, OH
1:00pm
WQMX
1795 West Market St.
Akron, OH 44313
Wednesday, November 1
Taylor, MI
8:00am
Top Gun Shooting Sports
22050 Pennsylvania Rd.
Taylor, MI 48180
White Lake, MI
12:00pm
Szott M59 Chrysler Jeep Store
6700 East Highland Ave.
White Lake, MI 48383
Grand Rapids, MI
6:00pm
The Intersection
133 Grandville Ave., SW
Grand Rapids, MI 49503
Check out new episodes of the "Granger Smith Podcast:"
https://itunes.apple.com/us/podcast/granger-smith-podcast/id1272911285?mt=2.