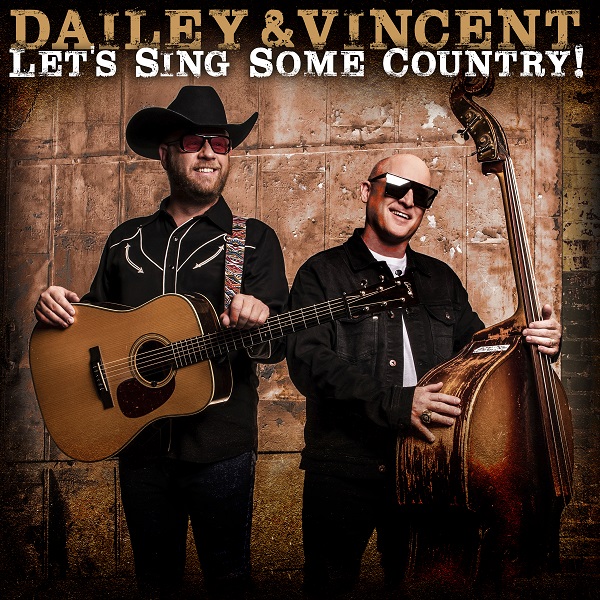 Grand Ole Opry Members, 5x GRAMMY® Award winners individually, 3x GRAMMY® Award nominees collectively, 4x GMA DOVE Award winners and 35x IBMA Awards winners altogether, Dailey & Vincent – Jamie Dailey and Darrin Vincent – (and their world-class band) have partnered with BMG to release their new, debut country record, appropriately titled Let's Sing Some Country! – available now on all digital platforms.
 Listen to Let's Sing Some Country! HERE
Produced by Paul Worley (Lady A, The Chicks, Trace Adkins), the renowned duo has focused their creative efforts on making the country record that they have always wanted to make. With the help of Jimmy Fortune, Vince Gill, Alison Krauss, Rhonda Vincent and more, Let's Sing Some Country! unleashes another side to the award-winning group that fans don't often hear.
"Let's Sing Some Country! has been on our list of goals for many years," says Dailey. "This record has been the most interesting process, mainly due to working with our first record producer ever, Paul Worley. Paul's patience, vision, and passion have been poured into these tracks."
"Recording this project has been one of the biggest highlights of my career," adds Vincent. "This collection of music is what I've dreamed of recording for a long time. We hope you will enjoy our version of country music, so crank it up and Let's Sing Some Country!"
Opening with "I'll Leave My Heart In Tennessee" – a love letter to the Volunteer State and the latest Tennessee state song inductee – the 11-track project flows through the delicate ballad of heartbreak with "Colder Than Winter" to the swampy "Those Memories of You," to the upbeat stylings of "Feels Like That Again," "Hillbilly Highway," "Message From The Farm" and more, channeling the duo's southern roots with back-porch philosophies and homegrown sentiments.
Let's Sing Some Country! Track Listing
I'll Leave My Heart in Tennessee (Karen Staley)
You Rescued Me (Wes Cleve Clark, A.J.Clark, Rory M. Bourke)
Hillbilly Highway (Steve Earle, Jimbeau Hinson)
Colder Than Winter (Vincent Grant Gill)
Those Memories Of You (Alan O'Bryant)
Dig A Little Deeper In The Well (Jodie Emerson, Roger Bowling)
Closer To You (Jimmy Fortune, Justin Peters)
Feels Like That Again (Karen Staley, Keith Burns)
Young Man's Town (Vincent Grant Gill)
Message From The Farm (Daryl Burgess, Mark Matejka)
If I Die Drinkin' (Vincent Grant Gill, Ashley Monroe)
The album release comes during Dailey & Vincent's flagship American Made Music Festival in Hiawassee, Ga., which started yesterday, September 15 and goes through Saturday, Sept. 17, and includes performances by Craig Morgan, Lonestar, Ricky Skaggs & Kentucky Thunder, and more. The stop was one of five in the group's annual festival series, presented by Springer Mountain Farms, that also includes events in Alabama (Albertville), Tennessee (Gainesboro), and West Virginia (Wheeling).
Next week, the pair will play host at one of Nashville's most infamous weekly events, Whiskey Jam (Winners – Sept. 19), and take the Opry stage twice – once on Tuesday, Sept. 20, and again on Thursday, Sept. 22.