SEPTEMBER 29: DELIVERS STATEMENT-MAKING RECORD + PUBLIC ONSALE AT 10 A.M. (LOCAL) FOR 2024 TREK
LISTEN TO "KILLED THE COWBOY" 
+ "CHEVROLET (FEAT. JELLY ROLL)" OUT NOW!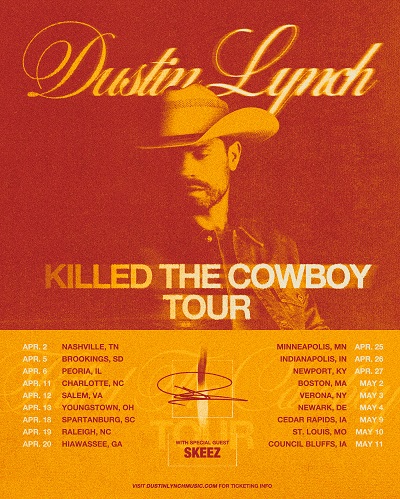 Delivering his statement-making sixth studio album, Killed The Cowboy (Broken Bow Records), next Friday (9/29), MULTI-PLATINUM star Dustin Lynch today (9/21) announces his KILLED THE COWBOY TOUR in 2024. Featuring special guest Skeez, tickets go on sale on album release day (9/29) at 10 a.m. (local) at DustinLynchMusic.com. Offering an exclusive presale starting at 10 a.m. (local) tomorrow (9/22), Stay Country Club members will have the first opportunity to purchase tickets here.
"I'm at a spot in life where I'm super focused on celebrating and living in the moment. The crew and I did a lot of that on the PARTY MODE TOUR and really found ourselves out there. The fans were coming out bigger, badder, and louder than ever," shares Lynch. "I'm excited for them to dive into this album, find themselves in it, and then bring that energy with their friends to the KILLED THE COWBOY TOUR next spring."
In a candid display of vulnerability, Lynch is in the midst of an internal struggle in Killed The Cowboy. At 38 and single, he's admittedly at a crossroads: Does he settle down, start a family, and lean into domesticity, or continue to carve out a life of extraordinary experiences that most people only dream of? Inviting the audience to join his journey, the charismatic man in the Resistol hat bravely tries to figure it out. Introducing the 12-track collection – five to his songwriting credit – with two songs now available, fans can check out the brooding "Killed The Cowboy" and nostalgic dirt road rocker "Chevrolet," featuring his BBR Music Group labelmate Jelly Roll. Listen here and pre-save/pre-add Killed The Cowboy.
Promising a setlist jam-packed with all new music mixed with his hottest hits, including current Top 10-and-rising "Stars Like Confetti" (off Blue In The Sky), Lynch's KILLED THE COWBOY TOUR launches next year on April 2 at Ryman Auditorium in Nashville, TN, before making major city appearances in Charlotte, NC, Minneapolis, MN, Boston, MA, and more, across the 18-date run. Topping off the trek on May 11 at Harrah's Stir Concert Cove in Council Bluffs, IA, find full tour details here.
Speaking on Killed The Cowboy and more, tune in today (9/21) to catch Lynch on "Access Daily with Mario & Kit," co-hosted by Mario Lopez and Kit Hoover. For local airing, find your station here. He's also the latest guest on "The Viall Files" podcast, hosted by Nick Viall – listen now.
Announced dates, cities, and venues of Dustin Lynch's KILLED THE COWBOY TOUR:

APRIL 2024
2 | Nashville, TN – Ryman Auditorium
5 | Brookings, SD – Dacotah Bank Center
6 | Peoria, IL – Renaissance Coliseum
11 | Charlotte, NC – Skyla Credit Union Amphitheatre
12 | Salem, VA – Salem Civic Center
13 | Youngstown, OH – Covelli Centre
18 | Spartanburg, SC – Spartanburg Memorial Auditorium
19 | Raleigh, NC – Red Hat Amphitheater
20 | Hiawassee, GA – Anderson Music Hall
25 | Minneapolis, MN – The Armory
26 | Indianapolis, IN – TCU Amphitheater at White River State Park
27 | Newport, KY – MegaCorp Pavilion

MAY 2024
2 | Boston, MA – Leader Bank Pavilion
3 | Verona, NY – Turning Stone Resort Casino
4 | Newark, DE – Bob Carpenter Center
9 | Cedar Rapids, IA – McGrath Amphitheatre
10 | St. Louis, MO – Saint Louis Music Park
11 | Council Bluffs, IA – Harrah's Stir Concert Cove
Since releasing his breakout debut album in 2012, Lynch has become one of the most successful, recognizable, and dependable faces in Country music. Last headlining the PARTY MODE TOUR across eight months to sell-out crowds in 2022, the Grand Ole Opry member has played to over 4 MILLION fans spanning four headline tours; hosted his own see-and-be-seen pool parties in Mexico, Las Vegas, NV, and Nashville, TN; and has supported Country's biggest names like Luke Bryan, Florida Georgia Line, Brad Paisley, and Kane Brown.