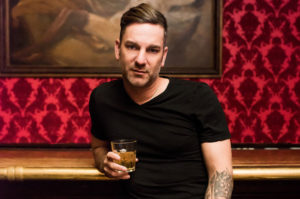 UPTEMPO PURE-COUNTRY ANTHEM ARRIVES TODAY (3/16). FIRST RELEASE IN TWO YEARS FOLLOWS INSPIRING BALLAD, "OUTSKIRTS OF HEAVEN"
Nashville, Tenn. (March 16, 2018) – Long celebrated for his new-school take on classic Country, BBR Music Group's CRAIG CAMPBELL is back with a fresh blast of uptempo fun, offering up a brand-new single titled "See You Try" today (3/16).
Penned by Florida Georgia Line's Tyler Hubbard with James McNair and Jordan Schmidt, the twangy barstool anthem finds Campbell shifting gears for a wild-and-free hit in the making, marking his first release since 2016's uplifting critical triumph, "Outskirts of Heaven."
"I feel like it was well worth the wait on my end, and I'm hoping the fans will feel the same way," Campbell says of the track. "I believe in divine providence and I feel like this song was meant for me, so I'm excited, and I feel like this is a game-changer."
Check out yesterday's world premiere of "See You Try" – including a flirtatious lyric video featuring Campbell's beautiful wife, Mindy – on Billboard.com.
Produced by Bart Butler (Jon Pardi's California Sunrise), "See You Try" feels like a natural mix of fan favorites "Fish" and "Keep Them Kisses Comin'," as Campbell playfully invites a country cutie to see if she can change his mind about a boys' night out. Well known as a devoted family man, though, Campbell says the irresistible track reminds him of one woman and one woman only – his wife of more than 12 years.
"When I'm doing my thing with my friends and she's ready to leave, I love for her to try to convince me," he explains. "Like 'Hey, it's time to go. And if you go with me right now, thenthis is gonna happen.' Even though we've been married for a little while now, I still get excited when she does those things."
A regular guest on the historic Grand Ole Opry stage, exceptional vocalist and critically acclaimed live performer, Campbell is on the verge of breaking out to superstardom after nearly a decade of success on the Billboard Country Airplay chart and beyond.
Songs like "Family Man," "Fish" and "Outta My Head" started the Georgia native off, striking a chord after the singer-songwriter was discovered in Nashville's famous honky-tonk, The Stage. Since then, "Keep Them Kisses Comin'" has cracked country radio's Top 10 and "Outskirts of Heaven" found tastemakers praising Campbell's heartfelt sincerity, paving the way for the next chapter of his story.
Campbell is coming off a standout year which included Luke Bryan's 2017 HUNTIN', FISHIN' AND LOVIN' EVERY DAY Tour, and is currently working on his debut studio album for BBR Music Group – his third full-length project overall. He'll headline select dates across North America throughout the summer of 2018.
Purchase/stream "See You Try"
here
.
About Craig Campbell:
Country singer-songwriter Craig Campbell's neo-traditional sensibility and undeniable talent have made him a favorite of both fans and critics alike for nearly a decade. Since launching out of the legendary Nashville honky-tonk, The Stage, and into the Top 15 of Billboard's Hot Country Songs chart with 2010's heartfelt "Family Man," Campbell has released two acclaimed studio albums and gathered over 1 billion radio airplay audience impressions. Singles like "Fish" have shown off the Lyons, Georgia, native's down-home side, while the infectious romance of "Keep Them Kisses Comin'" rose into Country radio's Top 10. A regular performer on the Grand Ole Opry and widely-praised entertainer, Campbell has been lauded by critical outlets like Rolling Stone Country and tastemakers like country radio DJ Bobby Bones – who says "Seeing Craig perform live will change your perspective on what a well-rounded artist is." He has been featured on NBC's Todayand Macy's 4th of July Fireworks Spectacular, and is a frequent supporter of both the USO and Fight CRC, where he serves as a national spokesperson in the campaign against colorectal cancer. Last June, Campbell hosted the 5th Annual Craig Campbell Celebrity Cornhole Challenge, and has raised over $200,000 for the Fight CRC organization to date. Following the release of his latest hit, the uplifting 2016 ballad "Outskirts of Heaven," Campbell has revealed a flirtatious new single – "See You Try" – and is working on his first studio album for BBR Music Group. He recently wrapped up Luke Bryan's HUNTIN', FISHIN' AND LOVIN' EVERY DAY Tour, and is currently headlining select dates nationwide.