Lainey Set to Perform on NBC's TODAY and The Tonight Show Starring Jimmy Fallon Next Week
 Watch Lainey Take Her Acting Skills for a Spin in the Cinematic Music Video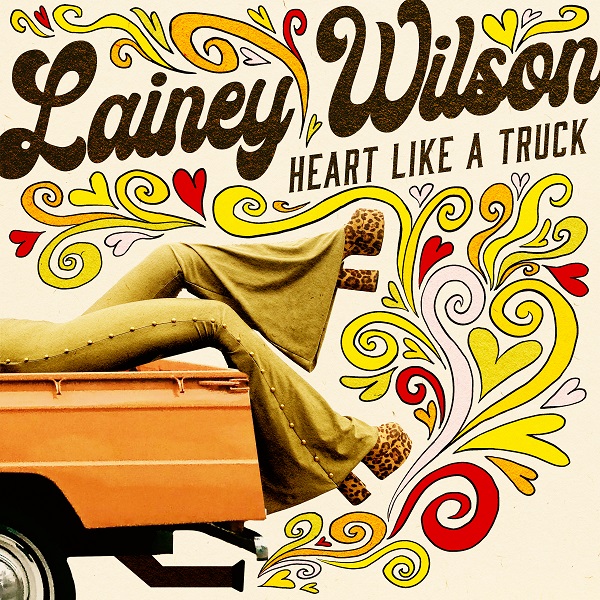 Tailgating her two week stint at the top of the Country radio charts, ACM New Female Artist of the Year and iHeartRadio Music Awards' Best New Country Artist, Lainey Wilson, today delivered her next single "Heart Like A Truck" and its accompanying music video. The song will impact Country radio on Monday (May 23) before it makes its national television debut on NBC's TODAY on Tuesday, May 24 and then on The Tonight Show Starring Jimmy Fallon on Thursday, May 26.
Brilliantly written with self-awareness and clever metaphors, Lainey shares the semi-autobiographical and strong "Heart Like A Truck." Produced by Jay Joyce and written by Lainey, Trannie Anderson and Dallas Wilson, the first single off her next album remains firmly in the spirit of Bell Bottom Country but shows the growth Lainey has experienced as a person, artist and songwriter since she wrote her critically-acclaimed Sayin' What I'm Thinkin' album which featured the ACM Song of the Year, "Things A Man Oughta Know."
"These past few months have been such a whirlwind, but man, it was quite the journey to get here. Miley wasn't playing when she said, 'it's about the climb,' because it really is what builds character and teaches you the most about yourself," said Lainey Wilson. "'Heart Like A Truck' is all about self-discovery, growth and embracing scars as badges of honor. After all, a truck that has hit a few bumps and earned some scratches has proved itself and its tenacity—the shiny one on the lot can't say that."
The cinematic video, directed by Elizabeth Olmstead, tells the story of a newbie, underdog horse trainer that struggles to gain the acceptance of her peers. Lainey plays the lead, debuting her acting chops and showcasing her horseback skills. Filmed at a historic farm in Franklin, TN, the video features performance scenes, sweeping landscapes and of course, a truck.
"I learned to ride horses before I learned to walk so, I felt right at home on set but I'll admit, I was a little nervous to really do character acting for the first time—it ended up being such a creatively fulfilling and thrilling experience," added Lainey. "I worked with Elizabeth for a Frito's commercial spot with Yellowstone and was so impressed by her talent, I had to have her be a part of this project—she really wowed me on this one. It was also really cool that it ended up being a whole team of badass women in charge of bringing this thing to life. It ain't every day that you walk on a set and have a female director, executive producer, director of photography, etc. so them all being able to relate to the protagonist made me feel like there was an extra level of care, it was really special."
"Heart Like A Truck" is the follow up to her second No. 1, "Never Say Never" with Cole Swindell, which reigned supreme at the top of the Country radio charts for two weeks. Seen on Good Morning America, The Kelly Clarkson Show and CMT Music Awards (which was heralded as "the night's top must watch performance" by the Tennessean), the single was Lainey's biggest radio success to date. She earned her first No. 1 with her breakout award-winning hit, "Things A Man Oughta Know." The single, which earned her the title of Billboard's Top New Country Artist of 2021, appeared on her critically acclaimed album, Sayin' What I'm Thinkin' which debuted in 2021 to mass critical acclaim.
Listen to "Heart Like A Truck" HERE. Watch the music video HERE. Download single art HERE.
"Heart Like A Truck"
I never stay in one place too long
A dirt road's singing me a siren song
I gotta find a field
I need to spin my wheels
I got a hankering for four wide tires
And I can't help it it's the way I'm wired
'Fore you get too close
Boy you need to know
I got a heart like a truck
It's been drug through the mud
Runs on dreams and gasoline
And that ole highway holds the key
It's got a lead foot down when it's leaving
Lord knows it's taken a hell of a beating
A little bit of love is all that it's needing
But it's good as it is tough
I got a heart like a truck
There ain't no braking when I throw it in drive
Don't always keep it in between the lines
If you're ready for a ride pedal down state of mind
Boy I tell you what
You better buckle up
I got a heart like a truck
It's been drug through the mud
Runs on dreams and gasoline
And that ole highway holds the key
It's got a lead foot down when it's leaving
Lord knows it's taken a hell of a beating
A little bit of love is all that it's needing
But it's good as it is tough
I got a heart like a truck
Go on and see if you can knock off the dust yea
Shine it up revv it up and let it run yea
It gets a high riding off into the sun yea
I got a heart like a truck
It's been drug through the mud
Runs on dreams and gasoline
And that ole highway holds the key
It's got a lead foot down when it's leaving
Lord knows it's taken a hell of a beating
A little bit of love is all that it's needing
But it's good as it is tough
I got a heart like a truck
Go on and see if you can knock off the dust yea
Shine it up revv it up and let it run yea
It gets a high riding off into the sun yea
It gets a high riding off into the sun
Fans can catch Lainey on the Ain't Always the Cowboy Tour with Jon Pardi and Hailey Whitters tour this summer as well as select dates with Morgan Wallen and Luke Combs. For more information about the "bona fide redneck warrior princess" (Saving Country Music), visit www.laineywilson.com