Feature Song for Historic Documentary Written By Music Icon
Diane Warren
Film Produced by Robert Redford, Patti Scialfa Springsteen and USA Olympic Equestrian Silver Medalist Jessica Springsteen opens theatrically nationwide today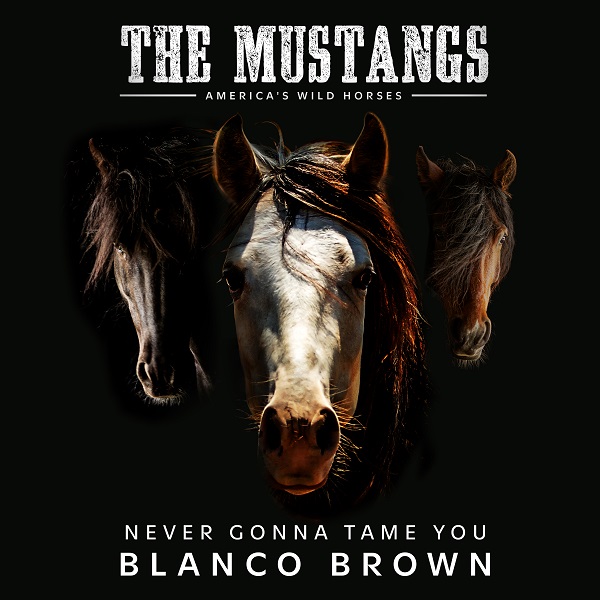 TrailerTrap creator and the mastermind behind the international 11x PLATINUM (totaled across three countries) sensation "The Git Up", Blanco Brown, today releases the emotional "Never Gonna Tame You (Original Song from "The Mustangs: America's Wild Horses")" via BBR Music Group. The song was written by music icon, 12-time Oscar® nominee and GRAMMY®, Emmy® and two-time Golden Globe® award winner, Diane Warren for the feature-length documentary "The Mustangs: America's Wild Horses," which opened theatrically today and unpacks the alarming history and current status of America's wild horses.
Listen to "Never Gonna Tame You (Original Song from "The Mustangs: America's Wild Horses")" HERE.
The Executive Producers of the film are Robert Redford, Patti Scialfa Springsteen and USA Olympic Equestrian Silver Medalist Jessica Springsteen. Producer Steven Latham brought in a lineup of American musical legends including Bruce Springsteen, Willie Nelson and Emmylou Harris for the soundtrack in addition to the featured song, performed by Blanco Brown. Warren, a Songwriters Hall of Fame member whose songs have been featured in more than 100 motion pictures, is a co-producer for the film and wrote the song inspired by the beauty and freedom of the mustang. Warren, wanting to find somebody who could really tap into the nuances and emotions of the song, reached out to Brown after seeing him perform a one-of-a-kind rendition of the National Anthem at a Dodgers game.
"America's mustangs represent us. They are living symbols of freedom and independence. This powerful film inspired me to write 'Never Gonna Tame You' for these beautiful and majestic creatures and for us who are lucky enough to share the planet with them. Their freedom is our freedom. Blanco Brown took this song to a whole other level. He sings with the voice of all those who long to be free and to stay free," says songwriter Diane Warren.
"Working with someone as accomplished, talented and lovely as Diane has been a blessing. I am incredibly honored not only that she chose me to sing one of her songs, but this one especially because it has such a beautiful spirit and was really cathartic to work on," said Blanco Brown. "I'm so grateful for the opportunity to be a part of this project."
Brown, an accomplished Country artist, who appears in the Netflix Series "Country Music, explained" (available now), was in a life-threatening motorcycle accident in September 2020 and leaned on music throughout his recovery. His latest single, "Nobody's More Country" was the first taste of music he released since the accident. On October 22, Blanco will share the music video for the single via a YouTube Premiere for all fans along with an exclusive YouTube Premium Afterparty for YouTube Premium subscribers where fans will chat live with the artist via phone hotline and group chat. The premiere will begin at 6pm CT.
"The Mustangs: America's Wild Horses" is a feature-length documentary produced by Steven Latham Productions and distributed by Virgil Films. The movie takes audiences on an odyssey throughout America to places few people have seen or even know about and tells the incredible story of America's wild horses from their turbulent history to their uncertain future and their impact on our country. Being a hot button issue with recent wild horse roundups taking place across the country, the film is now showing in movie theaters coast to coast and will be premiering at several film festivals, followed by an HD TVOD digital release.The film is produced by Steven Latham, directed by Steven Latham and Conrad Stanley, co-produced by Diane Warren, cinematography by Brian Pratt and edited by Conrad Stanley.